Beaver Lodge Cabin
For up to 5 people
2 bedrooms, 1 full bath, living/dining/kitchen area, for up to 5 people
On the creek, Beaver Lodge is our largest two bedroom cabin. Its east-facing porch and living area invite you to enjoy the ultimate in solar basking while the ever-changing moods of Lake Creek entertain your senses. Stay in Beaver Lodge for great old fashion fun – Pack a board game or puzzle to play with or sit around the campfire by the creek and roast marshmallows. Family memories are made here.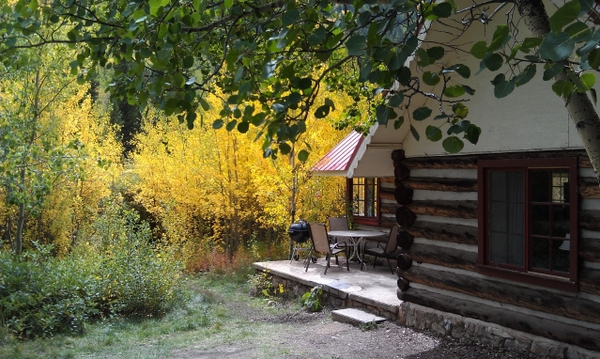 A campfire down by the creek is a great ending to your day in the mountains.
Rates For The Beaver Lodge Cabin
Rates below are for 2 people
*Extra people sharing the cabin: add $20.00/person/night up to a maximum of 3 additional people (Children count as people.)
Rates
Summer (May 15th – October 15th and all holidays)
$183/night on a 2 night stay
Winter Season (October 16th – May 14th) except holidays
$162/night Friday or Saturday nights
$119/night other nights
Discounts
Summer and Holidays
15% off 3 – 6 night stays
25% off 7 nights or more
Winter Season
15% discount on weekend nights with a multiple night stay.
Call or book now as Beaver Lodge always fills fast.