Cinnamon Bear Cabin
For up to 4 people
2 bedrooms, 1 full bath, living/dining/kitchen area, for up to 4 people
This newer cabin has 1 bedroom upstairs with a king bed, a queen bed in sitting room downstairs, and a full bath. As the east side of our duplex, built in 2000, Cinnamon Bear cabin is just right for couples or a small family. Your deck is situated perfectly to catch the morning sun and there is no better place to enjoy those first moments of the day. This cabin deck is also a great place to scope the slopes watching for the Rocky Mountain Goats that roam on the side of Rinker peak. Plan to make Cinnamon Bear cabin your home base for your next rafting or hiking adventure in the rocky mountains.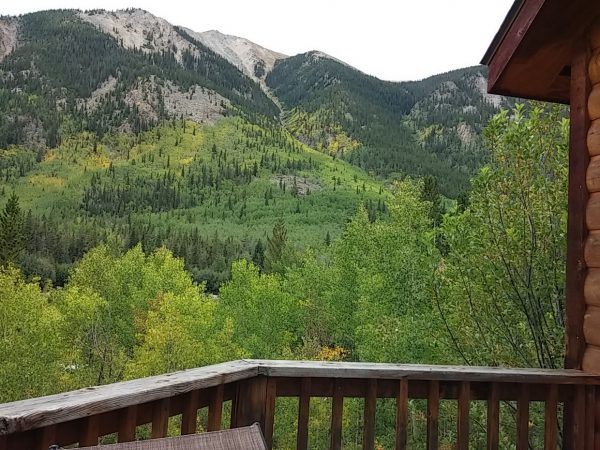 Sit on the deck and watch the sun play on the mountains.
Rates For Cinnamon Bear Cabin
Rates below are for 2 people
*Extra people sharing the cabin: add $20.00/person/night up to a maximum of 1 additional person (Children count as people.)
Rates
Summer (May 15th – October 15th and all holidays) 2 night minimum stay
Winter Season (October 16th – May 14th) except holidays
$158/night Friday or Saturday nights
$117/night other nights
Discounts
Summer and Holidays
15% off 3 – 6 night stays
25% off 7 nights or more
Winter Season
15% discount on weekend nights with a multiple night stay.
So choose your season and make plans to bring your family to Cinnamon Bear Cabin.