Trails End Cabin
For up to 5 people
2 bedrooms, 1 full bath, living/dining/kitchen area, for up to 5 people
Available mid-May to mid-October; this cabin is closed in the winter.
Farthest from the Lodge, this cabin offers the utmost seclusion, an expansive porch, and quick access to Black Cloud Trail: the shortest, steepest trail up Mount Elbert. Just step out your door and you can be on the trail to the highest peak in Colorado or drive no more than 10 miles for access to lots of other trails for hiking or fishing.
Trails End has three beds in its two bedrooms: A queen in bedroom one and two twins in bedroom two making it perfect for couples or small families.
Check our availability chart and book your next high mountain escape at Mount Elbert Lodge. We look forward to serving you.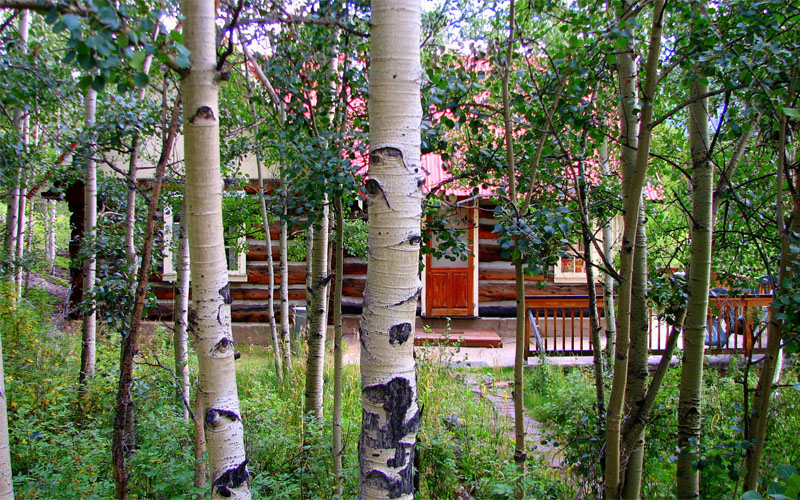 Closest to the Mt. Elbert Black Cloud Trail, this cabin is a great base camp for your accent.
Rates For Trail Ends Cabin
Rates below are for 2 people
*Extra people sharing the cabin: add $20.00/person/night up to a maximum of 3 additional people (Children count as people.)
Rates
Summer (May 15th – October 15th and all holidays)
$173/night on a 2 night stay
Winter Season (October 11th – May 14th) except holidays
$153/night Friday or Saturday nights
$112/night other nights
Discounts
Summer and Holidays
15% off 3 – 6 night stays
25% off 7 nights or more
Winter Season
15% discount on weekend nights with a multiple night stay.