Waterwheel Cabin
For up to 2 people
1 bedroom with queen bed, full bath, living/dining/kitchen area for up to 2 people
Waterwheel cabin is set into a hillside of aspen and pine woods. With Black Cloud Creek babbling out back, when you walk around to the small sitting area behind this cabin you are transported to another world. Build your campfire in the ring and enjoy the dancing flames as you listen to the creek rushing by. The wonderful effect is enhanced by the presence of an old waterwheel leaning drunkenly on the opposite bank of Black Cloud creek. The aspens, whispering and quaking with each breeze, will complete your sense of total escape from your everyday world. So if you are set for an unforgettable vacation, choose autumn when this cabin sits in a golden glow of yellow aspen leaves. The effect is truly unforgettable.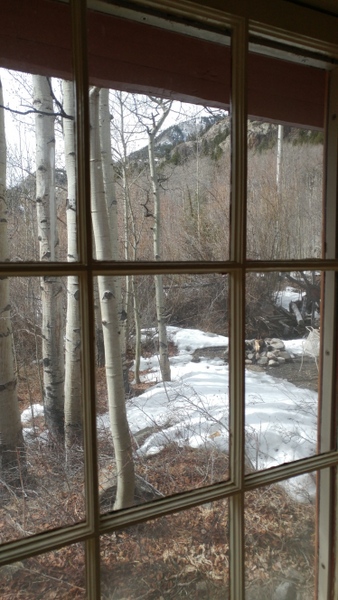 Rates For Waterwheel Cabin
maximum occupancy is 2 people
Rates
Summer (May 15th – October 15th and all holidays) 2 night minimum stay
$144/night on a 2 night stay
Winter Season (October 16th – May 14th) except holidays
$128/night Friday or Saturday nights
$94/night other nights
Discounts
Summer and Holidays
15% off 3 – 6 night stays
25% off 7 nights or more
Winter Season
15% discount on weekend nights with a multiple night stay.